Share
Close
Bungee
$20
•
Purchase required to enroll
Bungee is approximately 45 minutes of activity. When you arrive, class participants will spend about 10 minutes getting into your harness and attaching your bungee cord.
Experience bungee fitness at Aerial Arts of Rochester! Every student will have their own harness in which the bungee cord is attached in the back (single point). This will allow you to bounce and move with resistance needed for strengthening and toning those muscles while practicing fun and challenging movements. Below is a list of things to keep in mind before deciding to participate.
-This is a moderate to challenging cardio activity class.
-We recommend being comfortable jumping on the ground, stepping on and off a step ladder and with doing a plank position.
-The harness will probably be uncomfortable, especially on your first visit.
-Participation is not recommended for those with high or low blood pressure or those who experience mid to lower back pain.
-We recommend wearing form-fitting pants.
***For the safety of participants, our equipment is rated for maximum weight capacity of 200 lbs. You will be required to tell the instructor your weight so that we can provide you with the correct bungee resistance.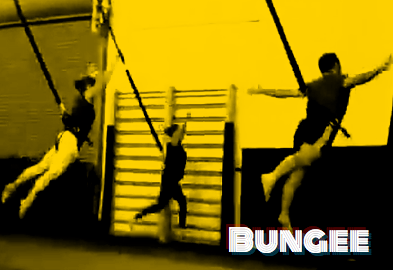 Cancellation policy It is required that you give the studio 24 hours notice of your cancellation. If you cancel less than 24 hours in advance, we will not issue a refund. The studio needs ample time to contact students on our waiting list.

The studio requires a minimum of 4 participants per workshop. If it does not meet the minimum, you will be notified approximately 24 hours prior to the start date of the workshop to let you know it will be rescheduled. The studio does not cancel workshops often, however it does happen on occasion.